ON PAPER: DRAWINGS, PRINTS & PHOTOGRAPHS
Thomas Jackson Alex Katz Margaret Neill John Newman Michael Singer
January 20 - March 5, 2022
JOHN NEWMAN
John Newman is an internationally recognized NY sculptor and draftsman. Highly esteemed for works inspired by science, mathematics, physics and art history his drawings are all the more unique for bringing a whimsical aesthetic to these disciplines. Newman has had over 50 one-person shows and been seen in numerous group exhibitions worldwide, with works included in such permanent public collections as the Museum of Modern Art, the Metropolitan Museum, the Whitney Museum, the Tate Modern, the National Gallery of Australia and the Albertina in Vienna. Received awards include the Rome Prize, Guggenheim, Joan Mitchell Foundation, Pollock-Krasner and NEA Grants, and a Senior Research Fulbright to India.
Like Newman's explanations of his own work, detailed analyses of his subjects, titles and materials remain inadequate. The complexity and often contradictory character of his inspirations are often so incongruous that, in effect, they cancel each other out and force viewers back on their own visual and visceral experience of the art itself. In trying to unravel his sources, one realizes that they are too plentiful and ambiguous to pin down, and that knowledge of them isn't critical to the ultimate success of the work. Despite all the clues provided, art such as Newman's is about losing track of origins.
Adam Weinberg, Director of the Whitney Museum of American Art (from a Tyler Graphics catalogue essay, "Newman Aside: Introduction")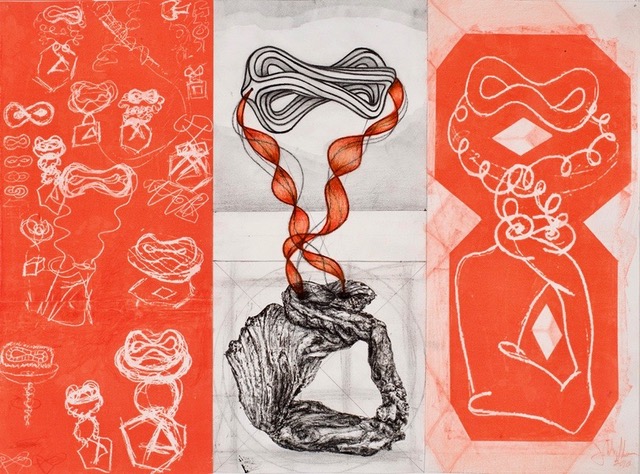 John Newman
Drawing for Orbiting Clear and Pearlescent, 2010
Pencil, Colored Pencil, China Marker, Paper Litho
18 x 24 Inches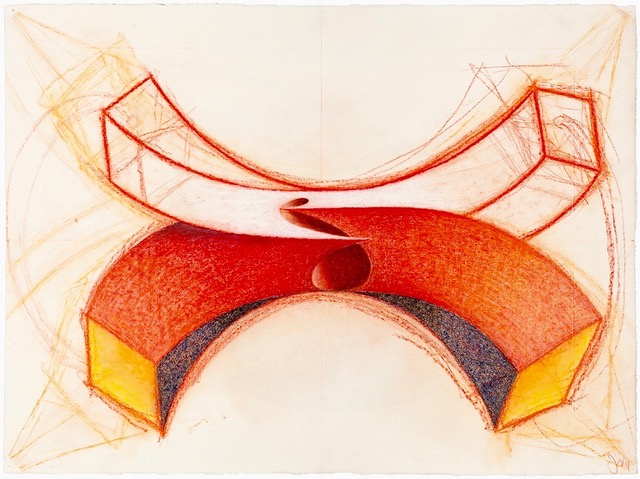 John Newman
Untitled, 2011
China Marker, Colored Pencil and Chalk on Paper
22 1/4 x 30 Inches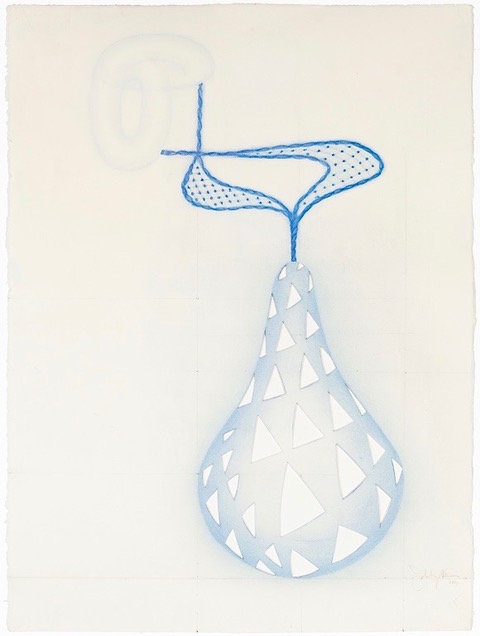 John Newman
Drawing for Light and Lace-Maker, 2013
Pencil, Colored Pencil, Cut-Outs on Paper
30 x 22 Inches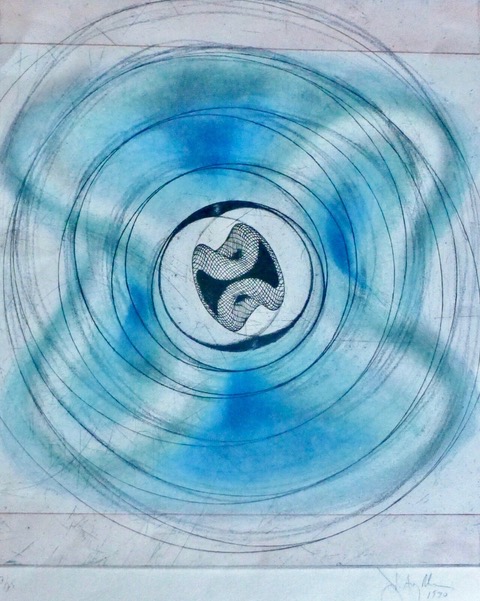 John Newman
Spin Cloud, 1990
Etching, Aquatint and Drypoint in Color, Ed. 35
Published by Tyler Graphics
30 x 24 Inches

MARGARET NEILL
Margaret Neill, a NY artist based in Brooklyn, has been making black and white drawings in charcoal and graphite since 1978. Neill acknowledges nature as one inspiration for these pure abstractions. Nature aside this is a joyful and confident body of work primarily about the pleasures of mark making: where you place your marks and where you don't, with white paper transformed into the beautiful light of what's in between. A trance-like mindset must be requisite for the focus and continuous motion necessary to make such dense and intricate, and minimal works. It's a risky business with little margin for error. Neill's drawings are equally satisfying as analogues for music - the lovely, quiet sounds of layer upon layer of pencil-thin graphite swirls and the din of black ink and charcoal.
Margaret Neill is represented in public collections nationwide including the Chicago Museum of Contemporary Art, the Yale University Art Gallery, the Arkansas Art Center and the Colby College Museum. Works have been featured in numerous one-person and group shows throughout the country including the Chicago Museum and the Cleveland Center of Contemporary Art, and at such academic institutions as Columbia, Hofstra, and Hiram College.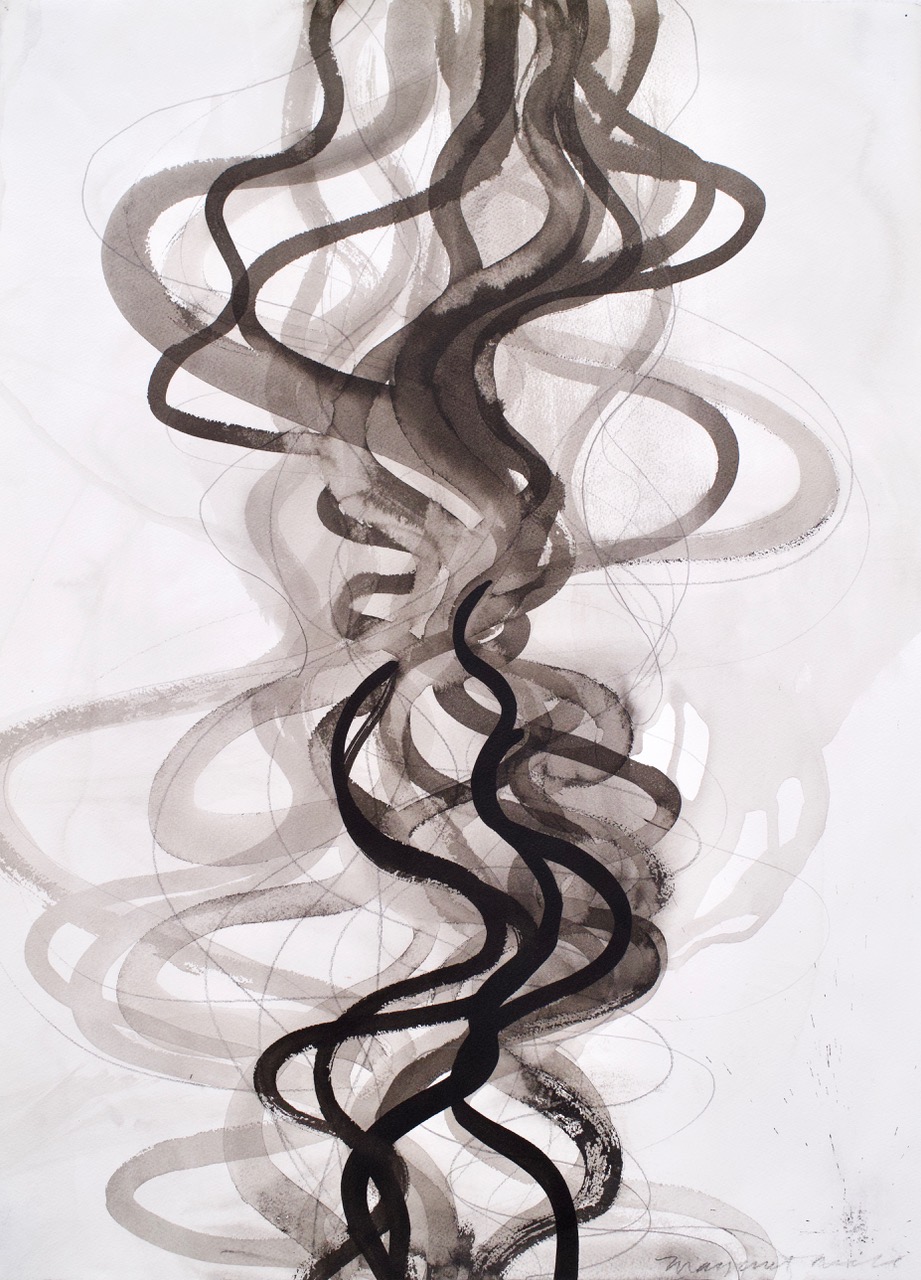 Margaret Neill
Receiver Series 4, 2018
Ink on Paper
30 x 20 Inches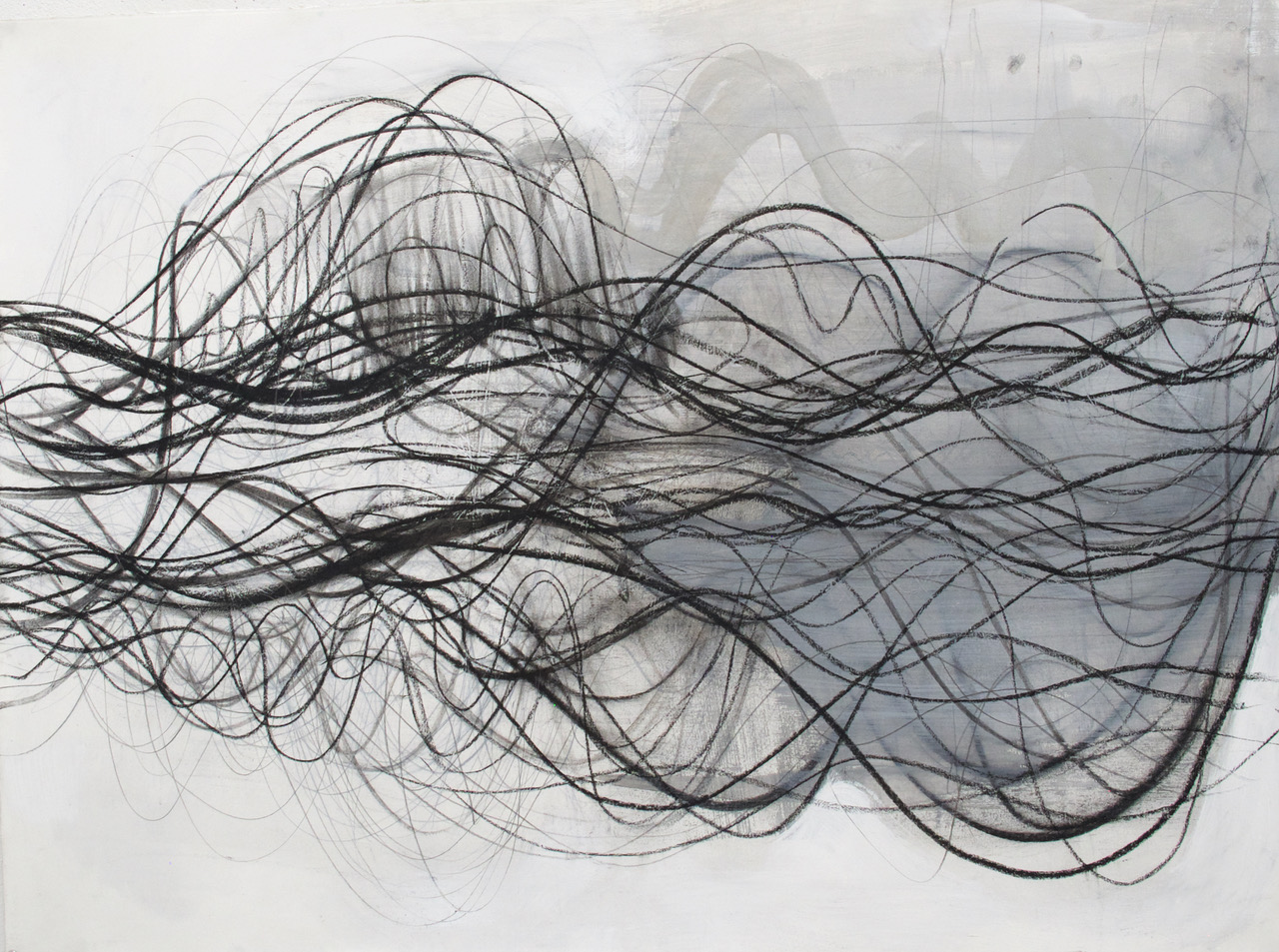 Margaret Neill
Sitelines, 2020
Charcoal, Printer's Ink and Gesso on Paper
30 1/2 x 40 1/2 Inches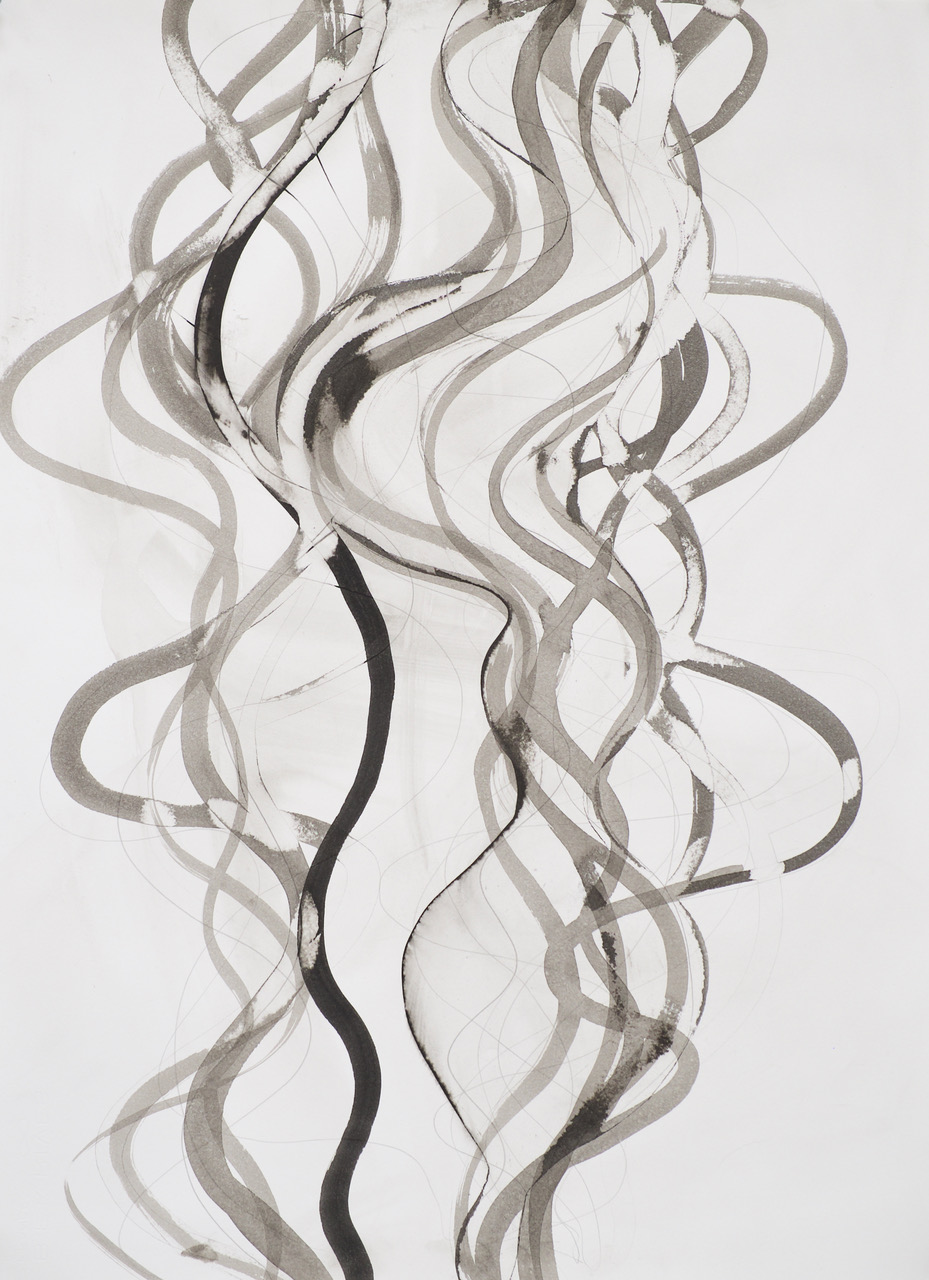 Margaret Neill
Receiver Series 2, 2018
Ink on Paper
30 x 20 Inches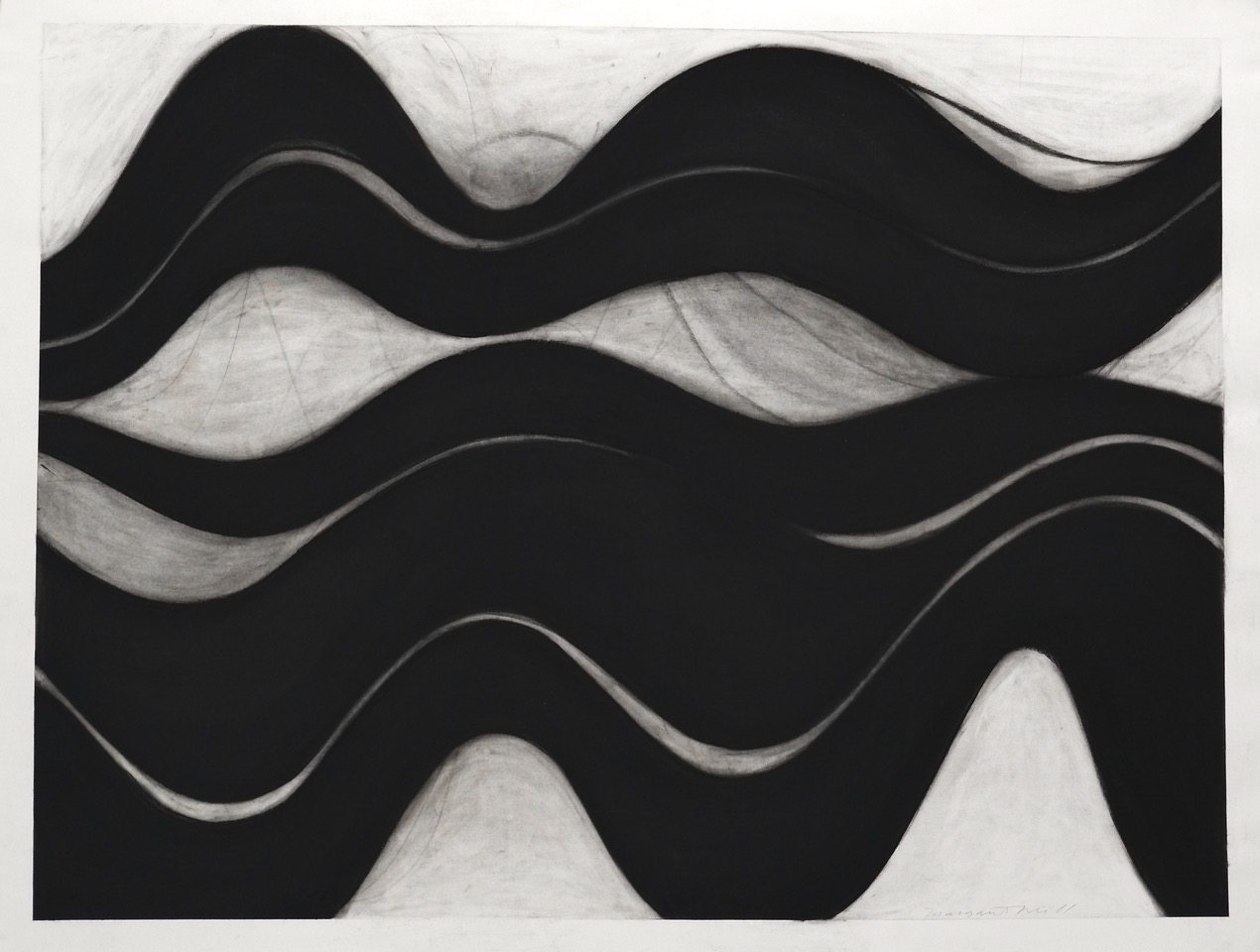 Margaret Neill
Haven Series, 2020
Charcoal on Paper
38 x 50 Inches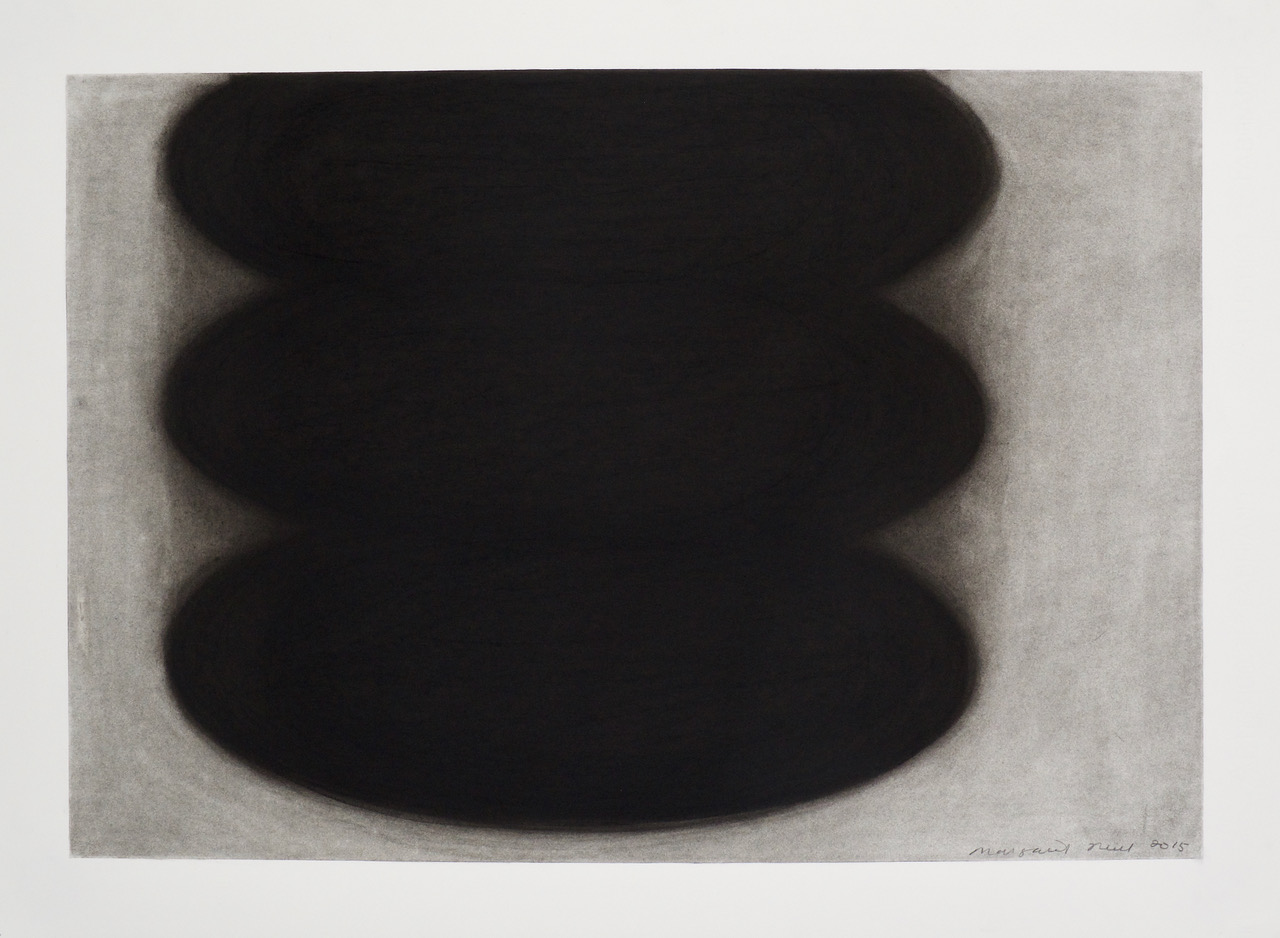 Margaret Neill
Haven Series, 2015
Charcoal on Paper
22 x 30 Inches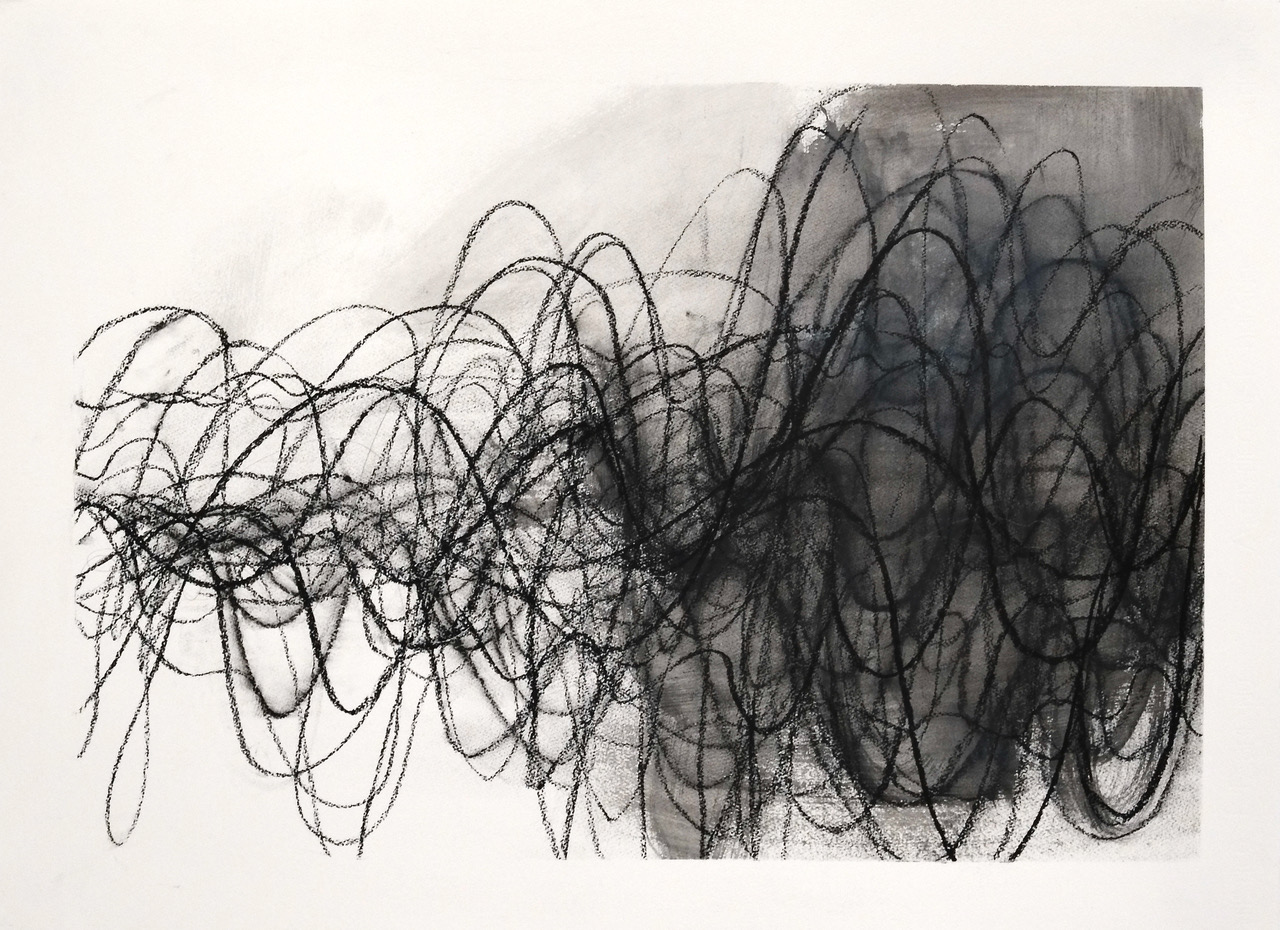 Margaret Neill
Cadence, 2021
Charcoal on Paper
22 x 30 Inches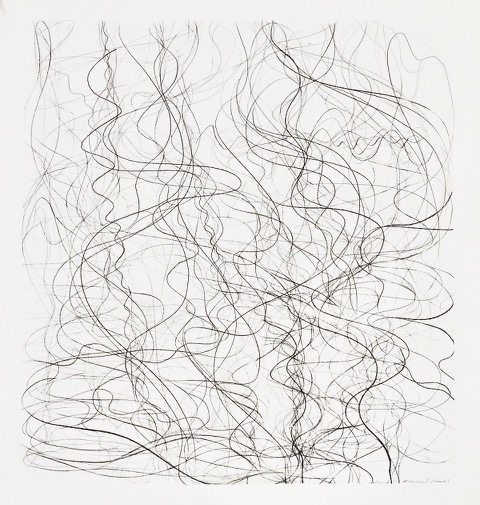 Margaret Neill
Access, 2015
Graphite on Paper
32 1/8 x 30 1/2 Inches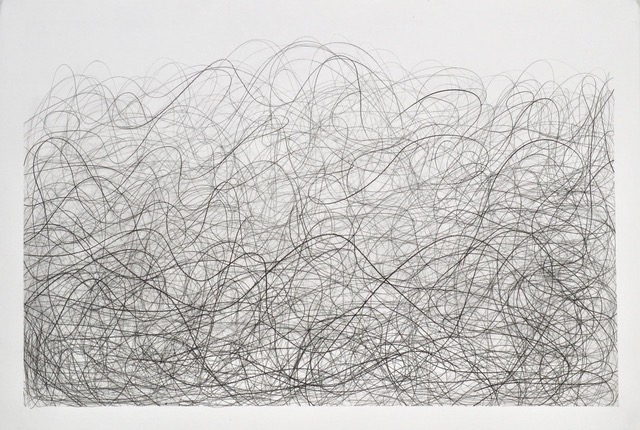 Margaret Neill
Beneath the Sky 5, 2021
Graphite on Paper
30 x 30 Inches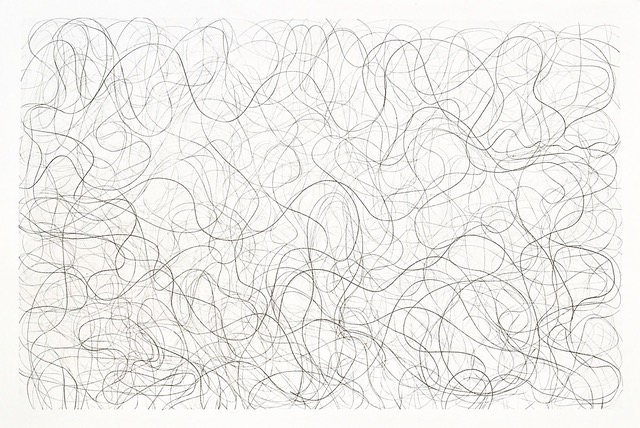 Margaret Neill
Beneath the Sky 6, 2021
Graphite on Paper
30 x 40 1/2 Inches

ALEX KATZ
At 94 Alex Katz is one of the preeminent contemporary artists in the world whose interest in the late 1950s in flat, monochromatic painting radically anticipated Pop Art. This innovative style brought the attention that separated him from his gestural figurative painter colleagues in NY at the time, yet Katz acknowledges it was at Skowhegan in Maine in 1949 that plein air painting gave him "a reason to devote my life to painting."
1965 was also the year Katz began a lifelong commitment to printmaking. Nine years later the Whitney Museum would mount the first of many print exhibitions, the Albertina in Vienna being the organizer of a major print retrospective that traveled to the Museum of Fine Arts, Boston, in 2012.
This outstanding career spanning 70 years will be the subject of a retrospective at the Guggenheim Museum opening in October, 2022. The recipient of numerous awards, Katz was inducted in 1988 into the American Academy and Institute of Arts and Letters and with works in over 100 public collections is represented in most major museums.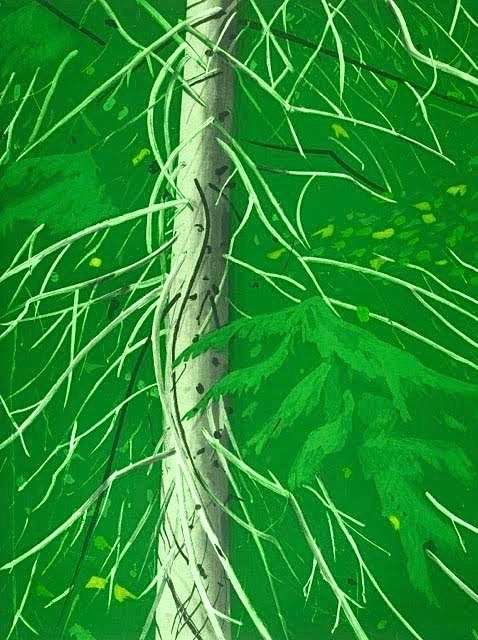 Alex Katz
Spruce, 1994
Aquatint, Edition 40 + 12 AP
47 x 35 1/2 Inches

THOMAS JACKSON
At the core of Thomas Jackson's photographs, inspired by such systems in nature as the schooling of fish and the flocking of birds, is the interplay of what is natural and manufactured, real and imaginary. It's his incongruous pairings of the two that is at the heart of these provocative images that are at once beautiful and unsettling. Jackson has the unique ability to incorporate the mundane into the environment in such a way that his photographs are hauntingly lovely, like surreal recordings of dreams or memories one might question for their authenticity and cause a smile upon recollection.
Thomas Jackson spent much of his earlier days in NY as an editor and book reviewer for magazines which led to his current career as a photographer. With works included in numerous public and private collections and regularly scheduled exhibitions throughout the country he has a devoted following. Jackson's many awards are his selection as one of the 'Critical Mass Top 50' in 2012 , the PND's (Photo District News) Curator Award for the 'Installation/Still Life' Category in 2013, and the Fort Wayne Museum of Art's Juror's Merit Award in 2014 for "The National." He currently lives in San Francisco.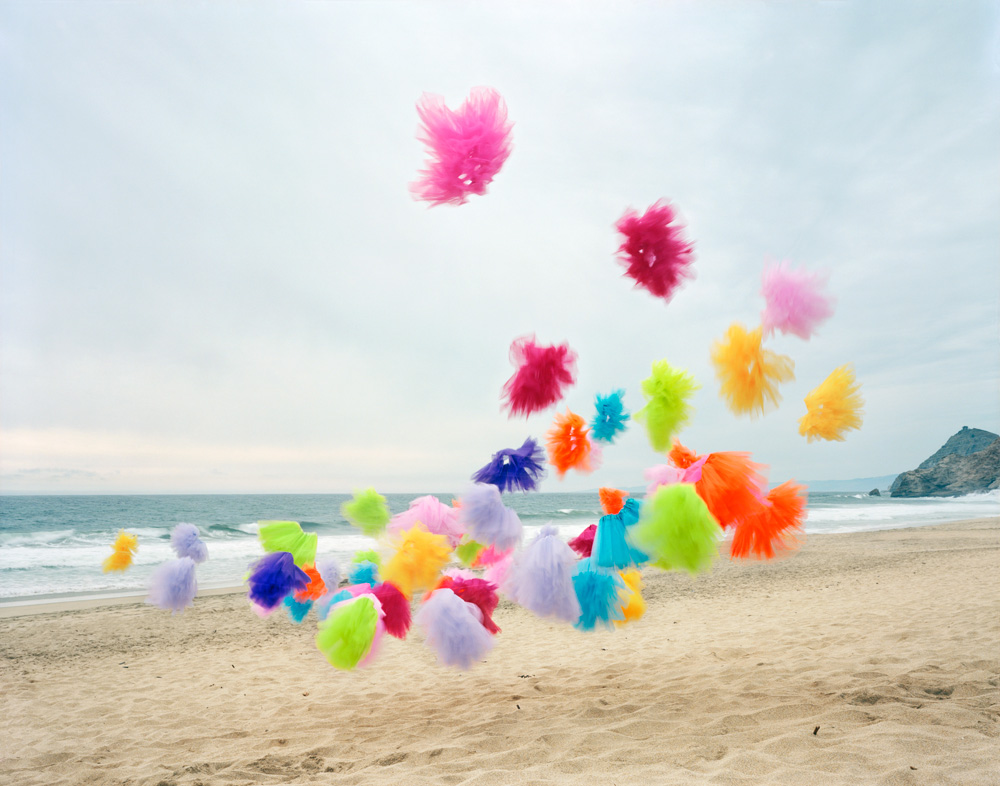 Thomas Jackson
Tutus No. 1 Montara, CA, 2015
Archival Pigment Print
48 x 60 Inches, Ed. 5 + 2 AP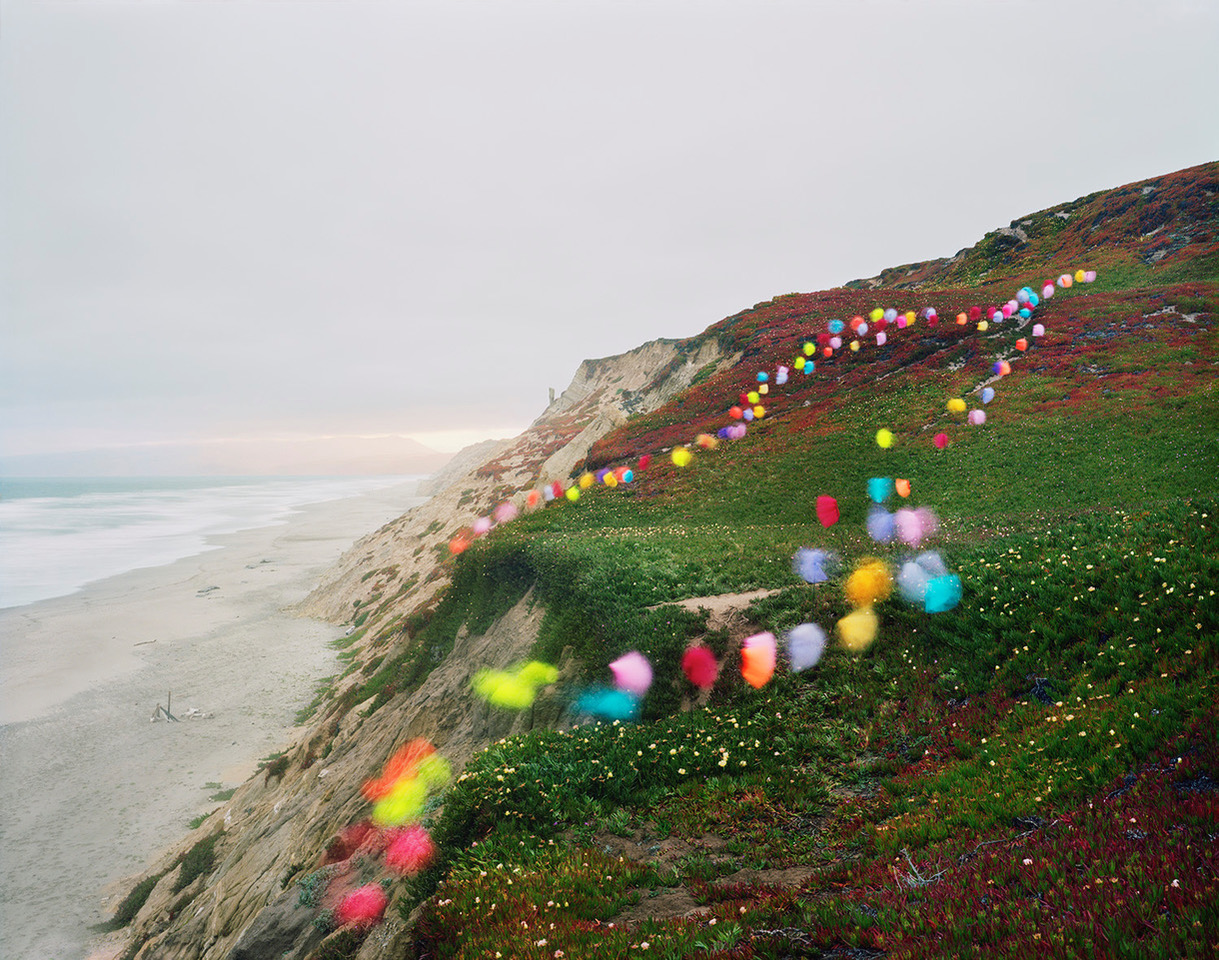 Thomas Jackson
Tutus No. 4, 2015
Archival Pigment Print
20 x 25 Inches, Ed. 4; 30 x 38 Inches, Ed. 7 + 2 AP; 48 x 60 Inches, Ed.4 + 2 AP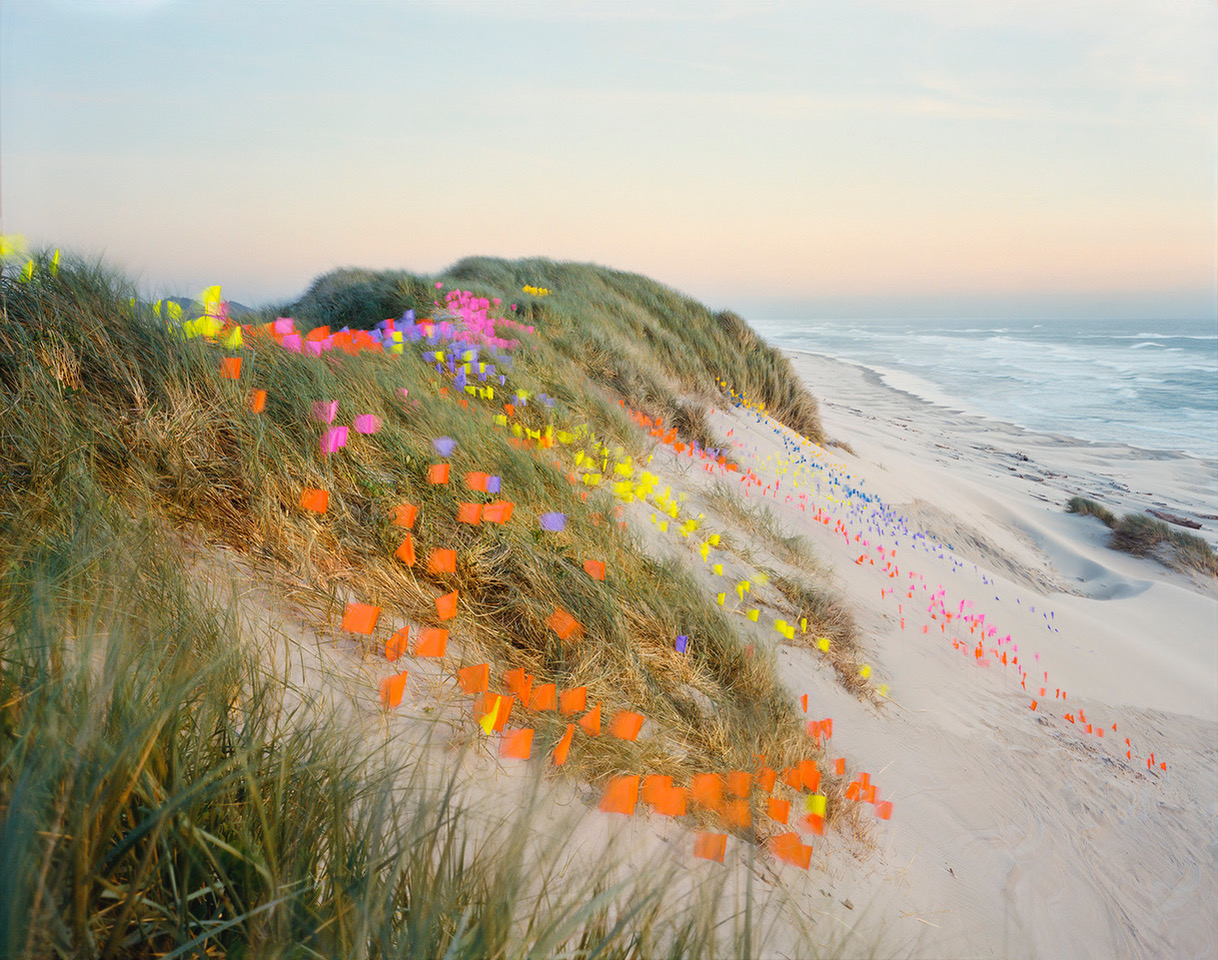 Thomas Jackson
Flags #1, Oregon Dunes, National Recreation Area, 2019
Archival Pigment Print
20 x 25 Inches, Ed. 4; 30 x 38 Inches, Ed. 7 + 2 AP; 48 x 60 Inches, Ed.4 + 2 AP

MICHAEL SINGER
Since the 1970's Michael Singer has opened new possibilities for outdoor and indoor sculpture and made major contributions to the definition of site specific art with his large-scale constructions of reeds, stones, wood and concrete that recall the ritualistic construction methods of the ancients. Singer is also commissioned to re-imagine the public spaces of airports, courtyards, and museum and sculpture gardens, and when his powerful black and white charcoal drawings and collages with swipes of white chalk - studies for his 3-dimensional projects - first appeared in NY they were overwhelmingly hailed for their brash beauty and improbably elegant welded steel frames. Wind became palpable.
Michael Singer was the subject of a major exhibition at the Guggenheim Museum in 1984 and works have been seen at the Venice Biennial, the Whitney Bienniale and Documenta 6, with one person shows at such institutions as the Wadsworth Atheneum, the Neuberger Museum, Williams, Dartmouth, Wellesley, Smith, Tulane, Rice, the School of Visual Arts, Wesleyan, the Utzon Center in Denmark and the Architecture Centers of Boston and Copenhagen. The artist has also taught graduate level architecture at MIT.
Public collections which own drawings by the artist include the Museum of Modern Art, the Guggenheim Museum, the Australian National Gallery, the Louisiana Museum of Modern Art in Denmark, Yale University Art Gallery and the Neuberger Museum, and discussions of Singer's work have been regularly featured in The New York Times with reviews also appearing in Art in America, Artforum, Newsweek, Arts Magazine, The Boston Globe, Art New England, Architectural Record, etc... The artist divides his time between Vermont and Florida.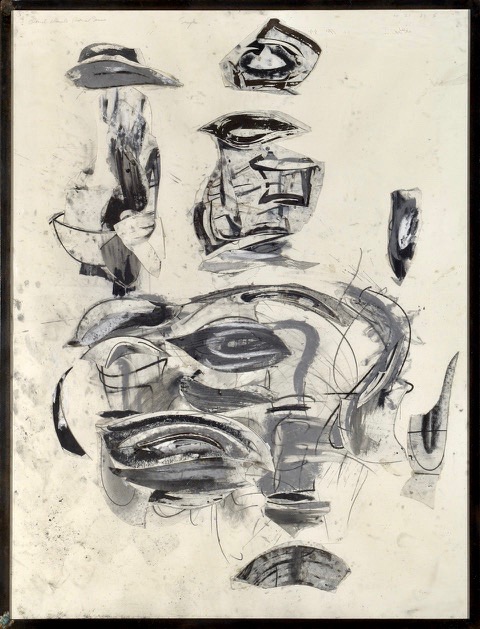 Michael Singer
Ritual Series/Cloud Hands II, 10/21/83
Paper Collage, Charcoal and Chalk on Paper
51 x 39 Inches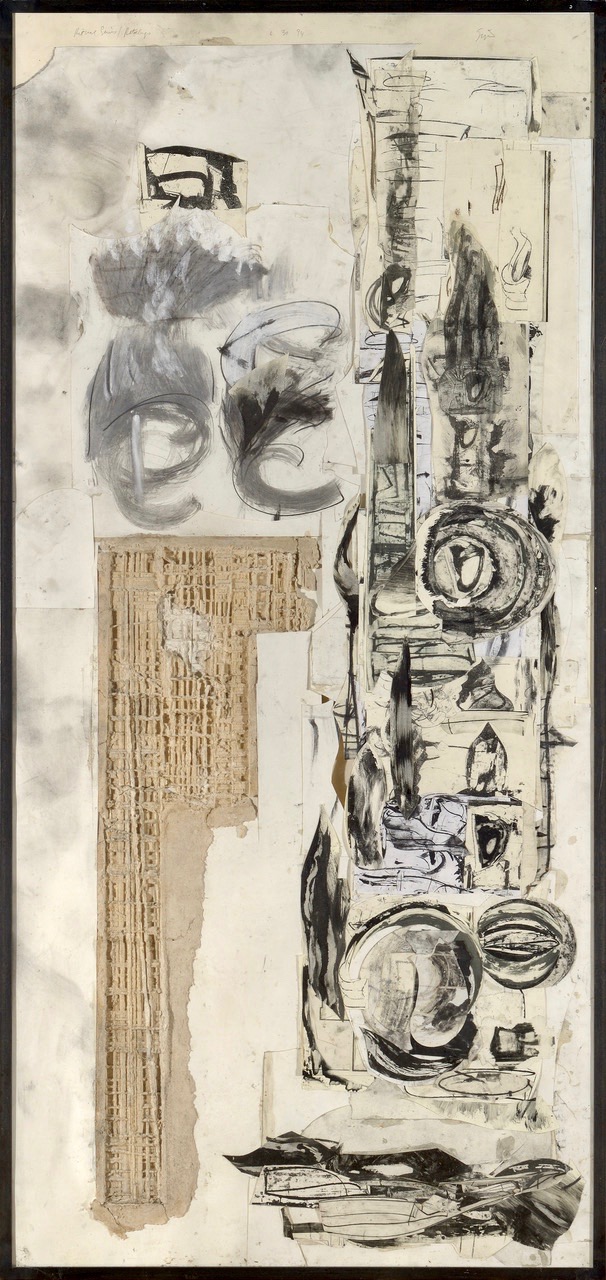 Michael Singer
Ritual Series/Retellings, 6/30/94
Cast Paper, Paper Collage, Charcoal and Chalk on Paper
96 x 34 Inches